HePo offers a range of wire products including Wire Baskets and Bathroom Accessories that provide durable and space efficient storage solutions for different spaces in your home. The products come with a 5 year replacement warranty against rusting which speaks volumes about its quality.

Wire Baskets
HePo offers you wire baskets in varied sizes for optimum utilization of space. It is surely a must have in your kitchen accessory collection. Crafted from premium quality stainless steel with chrome plating, the wire baskets are highly durable in nature and aesthetically appealing. Further, the smart design of the wire basket has been created keeping functionality and modern needs in mind. In addition, it is easy to maintain and possesses a trendy look. Moreover, it comes with a 5 year replacement warranty against rusting. HePo offers 3 types of wire baskets-
Plain Basket
Cup & Saucer Basket
Thali Basket
Plain Wire Baskets
The Plain Wire Baskets have been meticulously designed with a strong assemblage of stainless steel wires at the bottom.
High-quality stainless steel baskets with chrome plating
Unique sleek elegant design
30 kg. weight carrying capacity
Convenient to store packs of different sizes
Compatible with Telescopic drawer channels only
Available in 380 mm to 530 mm width, 500 mm depth and 100 mm to 200 mm height.
Cup & Saucer Wire Baskets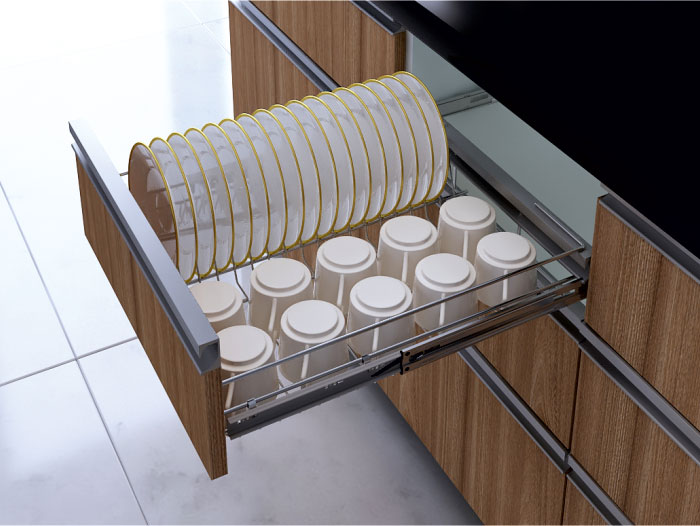 The Cup & Saucer Wire Baskets are a sophisticated assemblage of steel wire baskets mapped out to lend a systematic storage to your cup & saucer collection.
High-quality stainless steel baskets with chrome plating
Sleek design for perfect arrangement of cups and saucers
Compatible with Telescopic drawer channels only
Available in 380 mm to 530 mm width, 500 mm depth and 100 mm height. Can hold between 8 to 16 nos. of cups and 18 saucers depending upon the size.
Thali Wire Baskets
The Thali Wire Baskets are unique stainless steel baskets that lend design perfection to the storage of thalis. The structure is perfect for Indian kitchens where usage of thalis is highly prevalent.
High-quality stainless steel baskets with chrome plating
Perfectly compact design to store thalis in an organized manner
Compatible with Telescopic drawer channels only
Available in 380 mm to 530 mm width, 500 mm depth and 150 mm height. Can hold upto 11 nos. of full-size thalis.
Bathroom Accessories
A modern contemporary bathroom has multiple shades. Infused with smart technology and sundry, a perfect bathroom needs every minute detail of convenience tended to. HePo takes the definition of a contemporary bathroom a step ahead with its exquisite range of bathroom accessories to give you a lifetime experience of inexhaustible elegance.
Towel Rack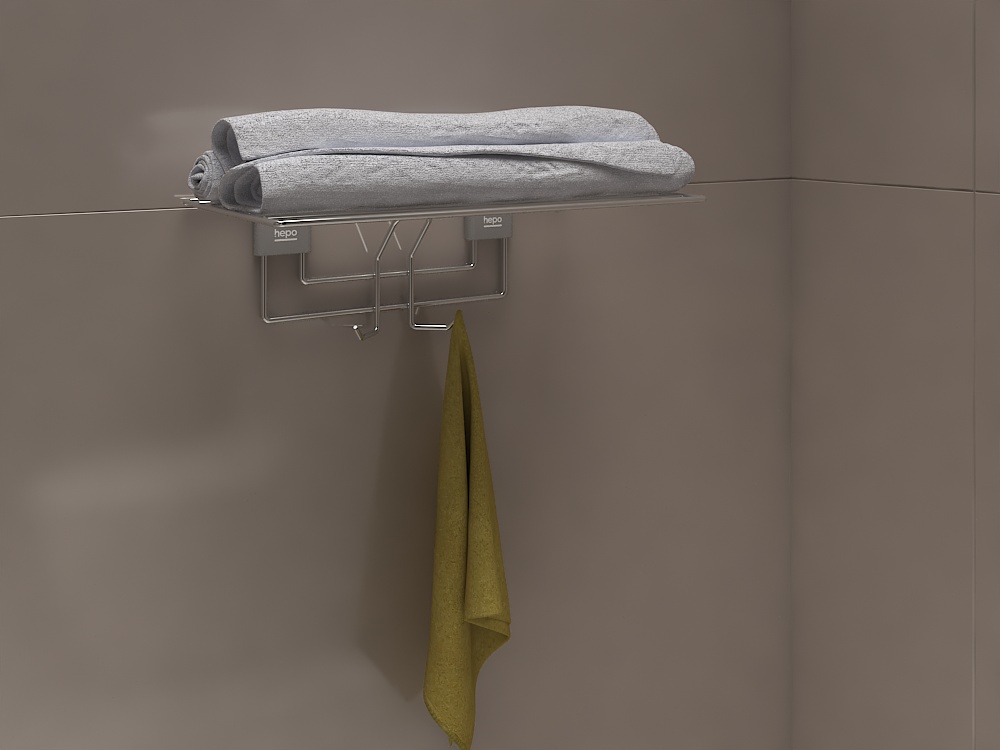 A good quality Towel Rack adds a definite bling to your bathroom and enhances convenience in the same go. HePo wall mounted towel rack adds the right stylish element to your bathroom. It lets you stack your towels neatly on to it which looks good, gives you great comfort & keeps your bathroom hygienic too!
Towel Rails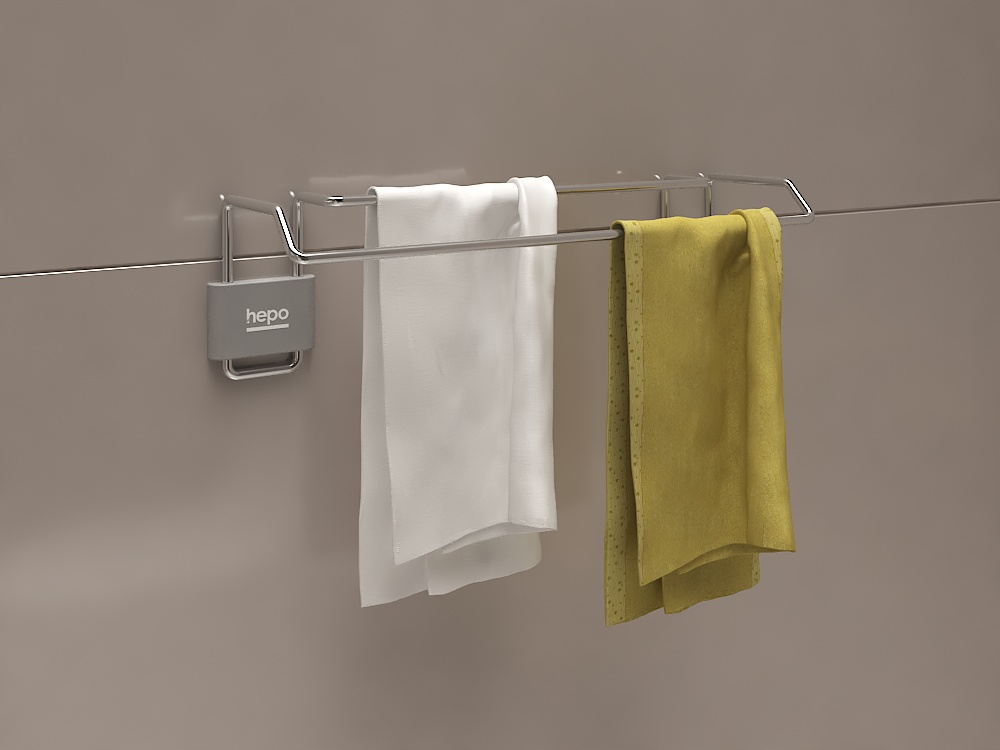 Towel Rails are a visual delight and a complete hygienic solution to the problem of wet dripping towels.
HePo Stainless Steel Towel Rails adds refined touch to the bathroom. It is a cool practical home addition that keeps your towel dry that keeps the sick humid stink at bay. A must for your bathroom, they add the right glamour touch & keep your bathroom free of damp breeding ground for germs and mold.
Soap Holder
A perfectly functional bathroom is incomplete without a good classy soap holder, a basic necessity that must find a place in every bathroom. It is indispensable to prevent the soap from reducing into a wet pulp in its own filthy water until it dries, which it never does anyways.
HePo brings to you the sleek stainless steel Soap Holder that fits perfectly in your smart bathroom ensemble, saves the usage of unnecessary space on the floor and does away with the risk of slippery surfaces.
Soap & Shampoo Holder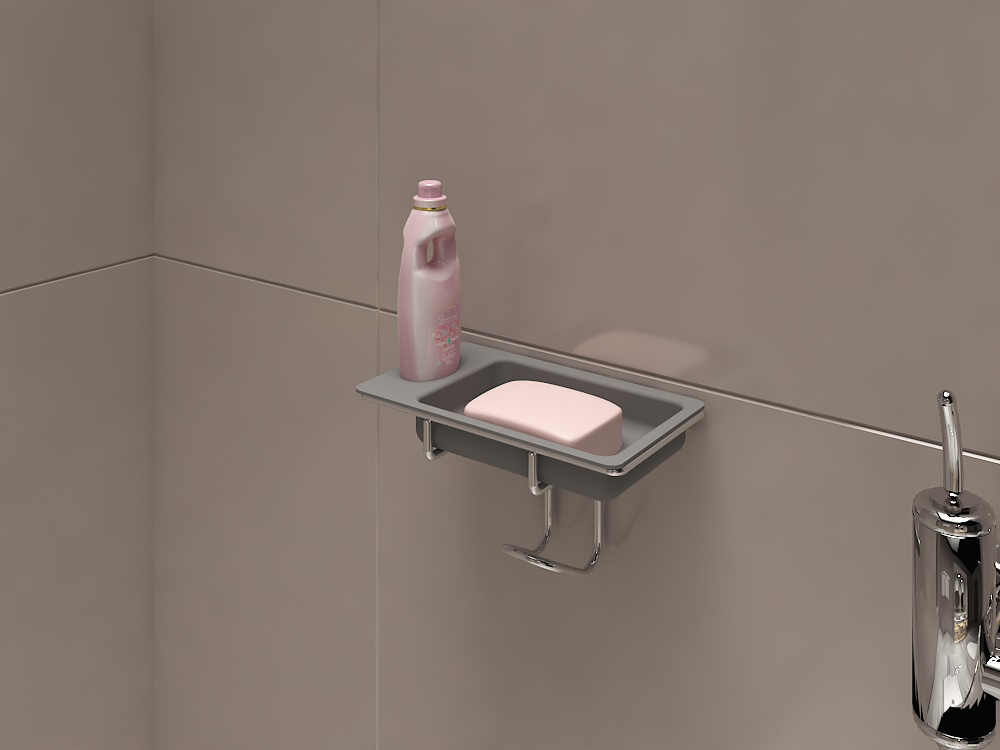 No matter how luxurious our preference for a high end life style may be, the bathroom looks a complete mess unless the contents are given some form of an organized form. A soap & a shampoo holder does exactly this, looks stylish & perpetuates a clean refined demeanor within.
The Soap & Shampoo Holder is another accessory from HePo that allows you to place your favorite shampoo and soap in a way that is conveniently accessible and gives an organized appearance to the toiletries. The holder prevents the wastage of space on the floor or open spaces that may be taken up in absence of the wall mounted holder and adds aesthetically to the vernacular of the bathroom.
Tissue Roll Holder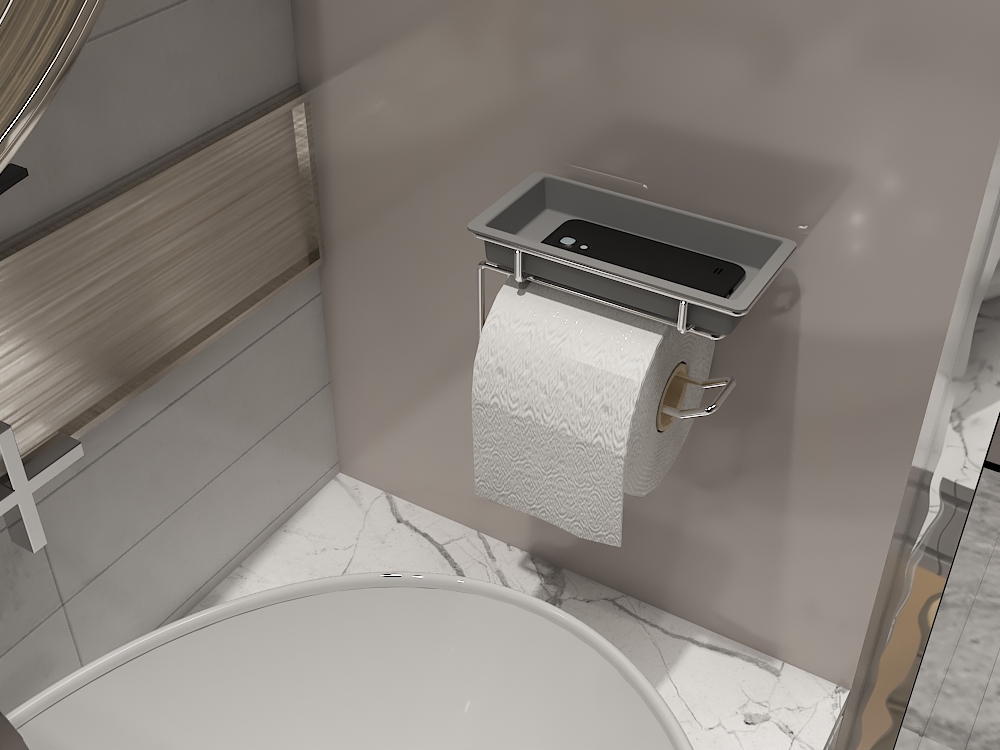 A tissue Roll Holder is a must in contemporary spaces. It is especially sought by the white collared workers and an essential ingredient of modern bathroom ensemble.
HePo Tissue Roll Holder with plastic tray is a suave product that must find a place in all modern bathrooms to maintain that elite factor besides maintaining hygiene within.
Tooth Brush Holder
A tooth brush holder not only looks classy in your bathroom but also gives a certain compact and neat look to your basin.
HePo stainless steel Tooth Brush Holder adds the right ambivalent touch to your bathroom, saves the unnecessary utilization of space by toothbrush containers on the basin.
Accessory Shelf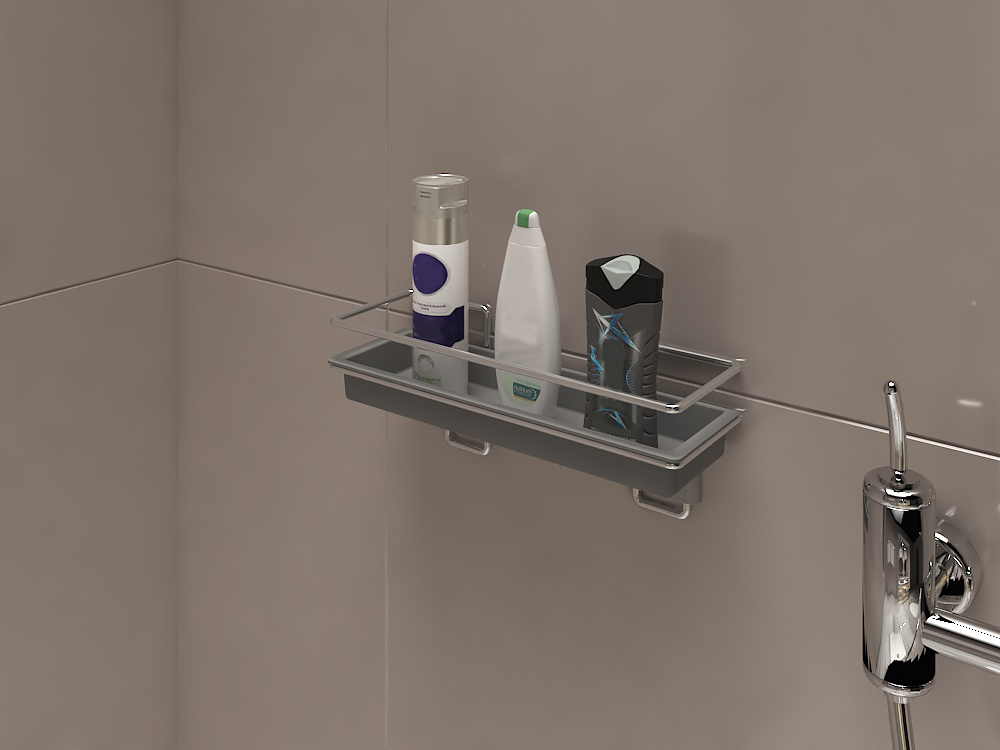 HePo Accessory Shelf has been modelled to hold daily use assortments. When added to the Bathroom Ensemble, the linear designed shelf adds a subtle refined touch to the same.
Corner Shelf
HePo Corner Shelf is a sleek corner unit that can hold multiple essential stuff. The product enhances storage space with its L shape component not only in your bathroom but canalso be used in other corners of your beautiful house.
Hand Towel Holder
HePo Hand Towel Holder is a charming accessory geared to store the towels. The product helps to retain a high level hygiene factor in the bathroom by keeping the towels dry and gives a pleasant contemporary twist to the bathroom landscape.
Clothes Hook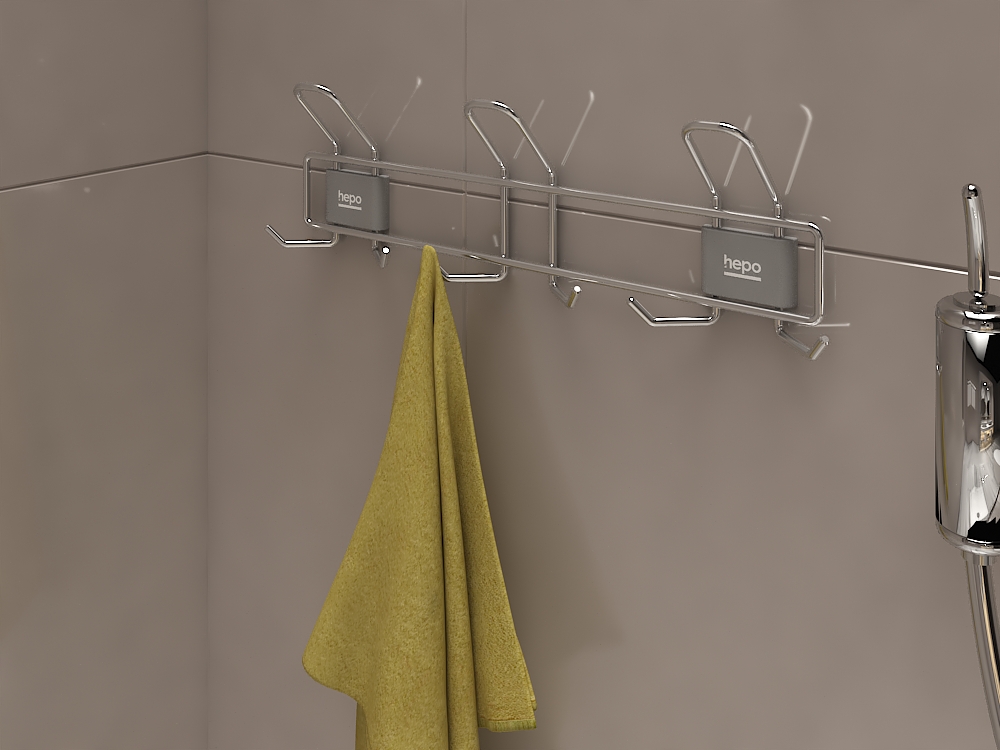 HePo Clothes Hook is a fascinating and convenient clothes holder fashioned to hold the clothes in the bathroom in style. The product puts an end to the unsightly picture of used and unused clothes lying around in the bathroom by giving a compact place to hang them.