Furniture Fittings form the backbone of the furniture. They essentially lend aesthetic versatility and convenience with their endless permutations and combinations creating trendy & innovative furniture. Hepo India offers Value for Money Furniture Fittings that provide assured quality fittings at a better price. The range includes Telescopic Runners, Bed Fitting Mechanism, and many more.
Telescopic Drawer Channels
A runner may be interpreted as a hardware on which a drawer or a wardrobe runs. A good channel or a runner increases the lifespan of the furniture.
Full extension runner.
Better designed tracks create ease of operation and better dynamic load behavior.
30 kg. weight carrying capacity.
Guaranteed upto 25,000 opening-closing cycles.
Excellent product for kitchen and office drawers.
Available in Zinc & Black colour.
Functional warranty of 10 years.
Available Sizes : 10" - 250 mm, 12" - 300 mm, 14" - 350 mm, 16" - 400 mm, 18" - 450 mm, 20" - 500 mm, 22"-550 mm
Bed Fitting Mechanism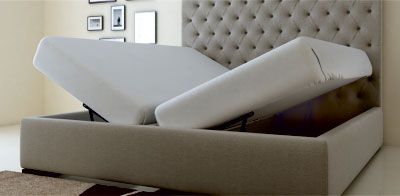 Bed Fitting Mechanism can be fitted into any given bed and it facilitates lifting of the bed surface thereby creating an extra space for utility. This gives the user more living space within the room with all the extra stuff into the storage space under the bed.
It is a perfect solution to access the storage space below the heavy mattresses conveniently with a swift single-handed lift movement.
Comprises of two elements: The Bed Fitting Frame and Gas Spring.
Both of them come with powder coated black color finish.
Weight carrying capacity of the gas spring ranges from 20 kg up to 200 kg.
Ergonomically functional and adds an eloquent touch to the room.
Available Sizes of Hepo Bed Fitting Frame and Gas Springs are:
| Bed Fitting Frame – Dimension | Compatible Gas Spring - Dimension |
| --- | --- |
| 405 x 530 mm | 340 mm/ 20 Kg |
| 590 x 400 mm | 320 mm/ 30 Kg |
| 1100 x 620 mm | 538 mm /50 kg or 70 kg or 100 kg or 120 kg |
| 1500 x 620 mm | 538 mm /50 kg or 70 kg or 100 kg or 120 kg or 150 kg or 200 kg |
Note : Gas Spring set to be ordered as per required weight capacity.
Butt Hinges
Butt Hinge is an innovative range of hinges which is made of stainless steel and is available in different sizes at a reasonable price. The butt hinges are used mainly in main & internal doors of an apartment/building besides being used in windows.
2 options of hinges: Welded (Railway) and Riveted.
Made of Stainless Steel ensuring better durability.
Preferred for wood, steel & aluminum profile doors.
Load carrying capacity of 40 kg per pair.
2 lakh cycles tested.
2 years functional warranty.
Available Type & Sizes (in inches) :
HePo SS Welded (Railway) Type Butt Hinge : 75 X 48X 1.9mm ( 3" x 14") , 100 X 58 X 1.9mm (4" x 14"), 125 X 64 X 1.9mm (5" x 14") , 75 X 50 X 2.5mm ( 3" x 12" ), 100 X 60 X 2.5mm ( 4" x 12" ), 125 X 67 X 2.5mm (5" x 12" )
HePo SS Riveted Type Butt Hinge : 3" X 2" X 2 mm, 4" X 3" X 2.5 mm, 5" X 3" X 2.5 mm,